When you're on a family trip, creating a private travel blog is not an easy task. The internet provides a number of services where you can create a photo blog in a couple of minutes, but most of the time, these services are limited.
A majority of these services do not correspond to a family's needs; more specifically the ability to easily customise the travel blog, upload videos captured on a mobile phone and in particular, in the case of a family trip, protect ones private life.
Create your private travel blog: safely share photos with friends and family
It's easy to find a free content generating platform to launch a travel blog, on the other hand rendering it private, or limiting its access to a small group of friends or family, is another story.
Similarly, some families may choose to share their travel photos on Facebook or on other social networks, but the risk of having family photos stolen by a third party remains high.
Ideal for sharing your family holiday photos: the secure travel blog
A family oriented platform where you can create your own travel blog in a few minutes, and where you will find all the criteria you would expect from such a service. It's easy to set up and easy to use, from its creation, to choosing your own layout and managing its content (photos, videos, and quick and simple comments). More importantly your private life and data are completely protected.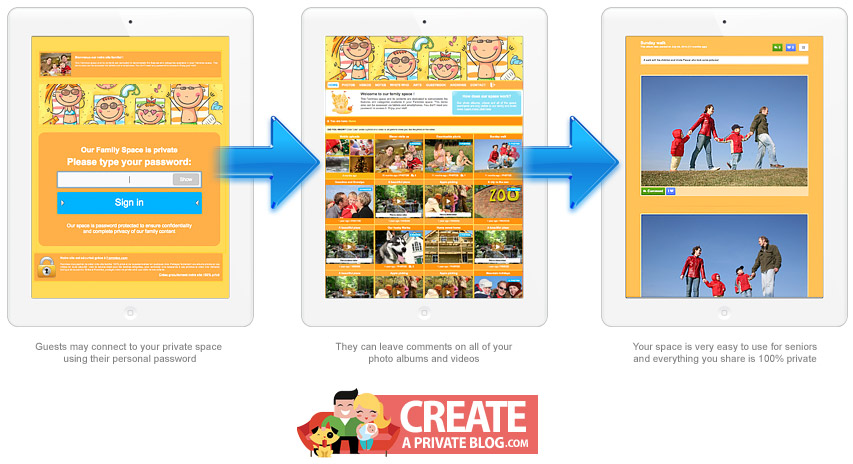 Practical, very easy to use and customise, this platform enables you to easily create your travel blog and to regulate its access. You create a list of invitees amongst your friends and relatives, attributes them a password, and send an invitation.
At each update of the family travel blog, invitees receive an email notification the following morning at 8am sharp. The family's' invitees can leave comments on each of the photos and videos and will enjoy following your family's adventures.
Protecting your private life and your family information is gaining importance for many families
This service is also very useful for families who relocate or move to another country and are hence far away from friends and family. The idea of protecting your personal data is increasingly important to many families worldwide. There are already too many stories of families who have had to make complaints to social networks after having had their photo stolen or even still their identity.
It is important to stress that social networks are not where you should share family photos, so it is important to recommend secure alternatives.
Discover without delay the platform dedicated to families, where you can create your own travel blog to safely share with your close friends and loved ones! (Registration is free, followed by the possibility, should you find the service satisfactory, of subscribing at the cost of $0.99.